12 Sep

NFL Fan Social Media Usage Stats: NFC & AFC East Edition

The most glorious time of year is upon us – yes, football season. To celebrate, I'll be diving into data that sheds a light on how and why different NFL team's fans use social media, throwing shade as appropriate since I have data to back it up.

Before we get into how your team's fans use social media, I want to give a shout out to GlobalWebIndex for providing the data and allowing me to geek out combining my two loves- social media and football.
NFL Social Media Data
NFC East
Let's kick this off with the NFC East division- home of the World Champion Philadelphia Eagles (#FlyEaglesFly) and some other teams that haven't been relevant in a while.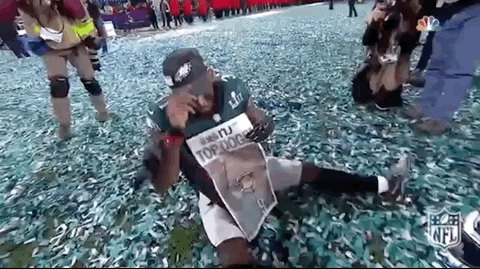 First, let's look at how much these fans are using social media in general.
You can see that the bulk of all NFC East fans are using social media from about 30 minutes to 2 hours per day. Overall, Giants fans are spending the most time on social media, being 30% more likely than average to spend over 10 hours a day on social media.
So now you've seen how often NFC East fans are using social media, but what exactly are their reasons for using social media? My initial guess was that most Cowboys fans spent their time on social tweeting thinks like, "Dez caught it!" but unfortunately, the data doesn't get that granular, so I can't confirm my suspicion.
The top reasons NFC East fans cited using social media are:
"To stay in touch with what my friends are doing"
"To share photos or videos with others"
"To stay-up-to date with news and current events"
After those top three reasons, it gets interesting. As you can see below, using social media to find funny content also sparked high for most teams – except for Giants fans, who were 10% less likely than average to use social media for this purpose. I guess they don't have much of a sense of humor these days. Eagles fans, however, are always up for a laugh whether it's on social media or while climbing greased light poles like idiots after a big win.
Stating that they use social media to fill up spare time was also a decent percent of each audience; however, Cowboys fans must really need something to do because they had the largest percent of fans using it for this purpose and were more likely than average to do so. Redskins fans were the least likely to use it to fill spare time, coming in about 20% under the average.
That's it for the NFC East fans. I would assume I've lost all the Cowboys fans by now, but if you're still with me- good for you! I'm done trashing you guys (for now), so let's see what the AFC East fans are up to.
AFC East
Ah, the AFC East. The division that's home to the team that lost to the Eagles in the Super Bowl. When they aren't losing Super Bowls or disappointing their fans constantly (looking at you, Jets), how much are the fans of the AFC East using social media each day? Let's take a look…
Overall, they're using social media roughly the same amount of time as the NFC East fans, averaging 30 minutes to 2 hours per day. Jets fans had the largest percent of fans that said they don't use social media at all and were 10% more likely than average to not use it. They're probably tired of the abuse. Will Sam Darnold be the savior they need to allow them to show their faces on social media again? Only time will tell. Dolphins fans are using social media the most, which makes sense given they're the city that takes the third most selfies in the world. ¡Bienvenidos a Miami!
Their reasons for using social media are also similar to the NFC East, with things like, "staying in touch with friends" and "sharing photos" high on the priority list. So, what else can we learn about them from this data? Here's a look at the social media channels that they're actively using.
It's not surprising to see that Facebook and YouTube are the most used social media channels, as this holds true for the population as a whole. Bills fans, however, are more likely to use Twitter than their AFC East counterparts, with the largest percent of fans active on the channel. They're also 31% more likely than average to use it. Perhaps this high usage is due to all the #BillsMafia table-slamming videos being posted to Twitter. Another interesting thing to note is that Patriots fans were the smallest percent of AFC East fans that use LinkedIn and were much less likely to use it than the other team's fans. Do they not care about their careers? Possibly. Tom Brady's career is probably the only one they're interested in.
I hope you've enjoyed this glimpse into the social media behavior of the fans of the NFC and AFC East! Stay tuned for an analysis on the rest of the division's fans in the upcoming weeks.
If you'd like to get insights like this for your brand's audience (and get actionable recommendations on what to do with that data), we can help! Contact us here or tweet us at @IgniteSMA.