Aug 16

Help us bring you the top Facebook brand marketers at SxSW

I need your help. We've got a panel under consideration for the next SxSW Interactive Festival in Austin, TX. If you're not familiar with SxSW (South by Southwest, or "South by") it's basically spring break for geeks–a mega conference.

Great event, but last year's breakout sessions could've used more meat, at least in my opinion.
You Like This
So this year, we've offered up our own panel. Called, "You Like This – Lessons from Top Facebook Brands," the session will put managers from the Top 50 Branded Facebook Fan Pages together on stage for the first time. That will allow me, as the moderator, to ask specific questions about how they grew their fan base, how they leverage their fan base and how they manage their fan base.
It should be an interesting, very practical, very actionable session.
We Need Your Vote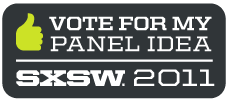 30% of the selection process are user votes. Please go to our session, log in (sorry, that's a bit of a hassle, but it makes your vote count LOTS more), and give us the old Thumbs Up.
You will need to register for the site, get an email confirmation, click on that, and then give us the thumbs up. And a lot of people aren't going to do that. So if we can just get a few dozen readers of this blog to follow through on it, that would put us in a great place. Please help.
Why You'd Help
There are really two reasons you might consider helping us:
You really want to hear from the marketers running the world's top Facebook fan pages; or
You generally like what Ignite Social Media is doing and you have a minute to help us out.
I'm not proud. I'll take your help regardless of the reason you offer that. Thanks for voting.